Watch Lisa on QVC
Lisa made her amazing debut on QVC on February 4th on "Paper Crafting with the Pros. If you would like to check out her airing just click the link and then choose "Videos" Click Here »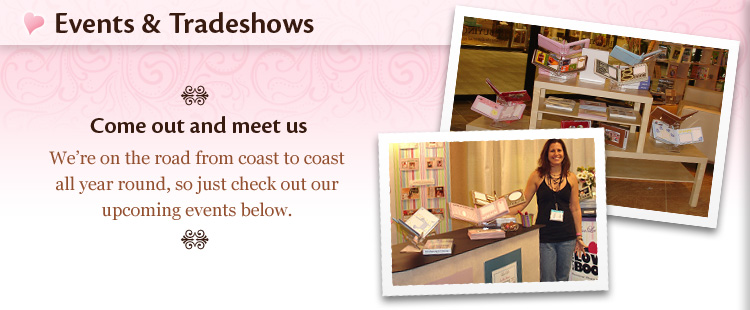 The Atlanta International Gift & Home Furnishings Market®
January 8, 2008
AmericasMart® Atlanta is the industry's #1 order-writing facility for gifts, home furnishings, home decor, gardens and apparel. It is the largest permanent wholesale marketplace of its kind in the world. Come by and get a sneek peek of our exciting new Little Love Books and a completely new product line!
The LisaLee Company is represented by Chris Starratt & Assoc. (901-737-7525)
Building 2, 15th Floor, Showroom 1510 Click here for a map
Visit The LisaLee Company in the temporary exhibits:
Building 3, 5th Floor, Booth 2503 Click here for a map
---
California Gift Show
January 18, 2008
The California Gift Show embodies the creative, trend-forward West Coast spirit that defines Southern California.
---
Miami Beach Gift Show
January 19, 2008
Come by and visit us in Booth 331
---
Kansas City Gift Mart
January 25, 2008
The Little Love Books are represented at the Kansas City Gift Mart by Prendergast, Inc. in Showrooms # 315, 319
---
New York International Gift Fair
February 1, 2008
The Little Love Books are represented by Eastern Sales Associates at the NY Gift Show in booths 1162, 1164, 1166, 1168, 1170, 1172, 1174, 1176, 1263, 1265, 1267, 1269, 1271
---
Baby Celebration L.A.
April 12, 2008
Come be a part of the "baby chic" event where the hippest moms meet the hottest companies in one of the nation's coolest cities!
---
The National Stationery Show
May 18, 2008
Come by and see us again in booth! 2142!
---