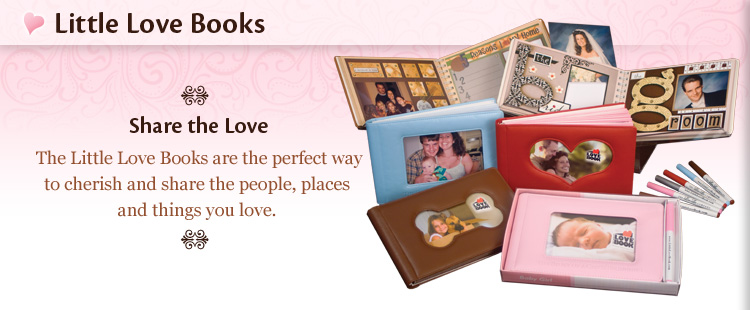 Introducing the easiest scrapbook ever.
The Little Love Books are ingenious
scrapbook-style photo albums that you
can really make in just a few minutes.
Just imagine being able to have a hand design personal scrapbook to share and show off all of your favorite photos and memories instead of keeping them in a box somewhere, or tucked away in some corner of your computer.
Your next thought is probably something like, "...but who has the time and money to make an album from scratch and really I wouldn't even know where to begin." Well that is exactly why I created the Little Love Books.
With my unique PhotoPocket page designs, all you have to do is slide your photos into the pre-designed pages and they appear in the pre-cut windows. Every book features 20, hand-scrapbooked pages that look so lifelike the designs just pop off of the page and make your photos look brilliant. We even include a free achrival-safe pen to journal your memories and a sheet of double-sided mounting stickers to hold your pictures securely in place.
The Little Love Books are great gifts for
so many occasions too.

If you are looking for a memorable gift that people will always remember, then consider one of our books for your next shower, wedding or birthday for that someone who has everything.
The Little Love Books are as easy as 1, 2, 3...
Choose and trim your photos.
Apply a mounting sticker and slide in
Journal your memories
15 minutes and you're done!