Watch Lisa on QVC
Lisa made her amazing debut on QVC on February 4th on "Paper Crafting with the Pros. If you would like to check out her airing just click the link and then choose "Videos" Click Here »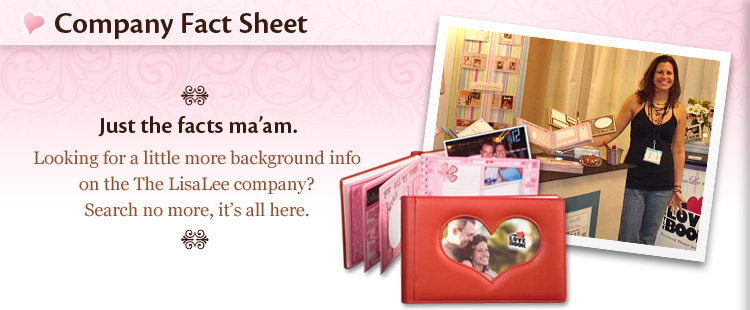 Overview
The Little Love Books are pre-designed scrapbook photo albums that combine the charm of handcrafted scrapbooks with the ease of photo albums. All that's left to do is slide in your photos! We've even included everything you need; a sheet of double-sided mounting tape and a free archive-safe pen to journal your memories.
Everyone, everywhere is interested in preserving their memories and sharing their experiences. For many, scrapbooking is a fantastic means to collect, preserve and present these memories. However, for many more the significant investment of time and supplies is too high a barrier to pursue this hobby. Others feel that they simply don't have the "talent" to create beautiful craftwork. More often than not people resort to simply stashing away their memories into cumbersome albums or simply dumping their photos into a shoebox. Even those consumers embracing the digital photography phenomenon are grappling with ways to preserve and share their memories.
Product Description
Designed as a fun and easy way to preserve memories in today's busy lifestyle, each "Little Love Book" contains 20 hand-designed, themed pages with die cut windows where photos simply slip in. Every page is made from heavy archival safe paper and wrapped in a softly padded and stitched leatherette cover which also features a window to add a photo. This distinctive design means each book can be completed in just minutes.
All of the books are hand-designed by scrapbooking and memorabilia enthusiast, Lisa Lee. As a busy mom of three, Lisa created the Little Love Books as a way to share her love of scrapbooking with her friends and family by taking the time, expense and effort out of the process. Currently available in Baby Boy, Baby Girl, Love and Home editions, the Little Love Books are the perfect gift to help preserve memories in a fun and easy way. At an attractive MSRP of only $24.95, the "Little Love Books" are priced to appeal to anyone looking for a personal and memorable gift.
Industry Research
The 2004 "Scrapbooking in America"™ (SIA) survey estimates annual industry sales at $2.5 billion, a 27.8 percent increase from 2001 & according to the Craft & Hobby Association, scrapbooking is the nation's 3rd most popular craft. In the photo industry, total digital imaging shipments are expected to exceed 32 million units, with revenues projected to reach $8 billion according to the Consumer Electronics Association (CEA)
"The typical U.S. picture-taker is a mother with two children, who is fully occupied sixteen hours a day. Her albums are the family's archive-maybe their most emotionally valuable possession. She wants to personally show those pictures, or send hard copy prints - not just e-mail them - to her friends and relatives."

Martin Coyne II, Eastman Kodak Photography Group Executive
Lisa Lee - Founder & CEO
Recognized as an avid scrapbooking and memorabilia enthusiast for over a decade, Lisa is an expert on the tools, techniques and people in today's billion-dollar scrapbooking industry. She's been repeatedly commissioned to create custom albums and has developed dozens of her own. Having traveled to numerous tradeshows to share her work and passion for scrapbooking, Lisa has been recognized by the industry's top professionals for her natural talent and enthusiasm. She has developed an extremely versatile style and an ability to design unique pages appropriate for a variety of interests, audiences and tastes. Lisa serves as Creative Director for the Little Love Books and she is responsible for the content development, page designs and overall creative direction.